Meet The Vets — Dr. Tina Chou
lead Doctor of Veterinary Medicine / director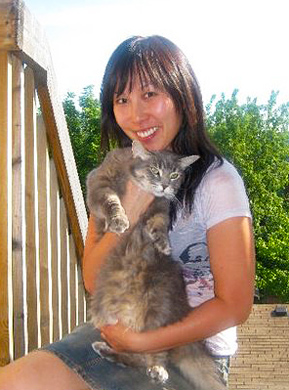 Being able to save a life, help injured or sick animals get well and seeing happy owners gives Dr. Chou an immeasurable amount of joy. When owners look into her eyes and thank her for making their pet healthy, the emotional rush is indescribable. Even more rewarding is when a patient recovers and is wagging its tail or purring, acting as though nothing happened, despite having gone through a life-saving procedure. These are the moments that are unforgettable.
Dr. Tina Chou, a Toronto native, began her veterinary career as a high school co-op student at a mixed exotic and companion animal practice. Shortly after being inspired by her experiences there, she began working at the Veterinary Emergency Clinic in Toronto throughout her high school and university years.
Dr. Chou graduated from the Ontario Veterinary College in 2009. After completion of her Doctor of Veterinary Medicine degree, she went onto pursue an internship. She completed a rotating internship in Emergency and Critical Care, Internal Medicine, Oncology, Neurology, Cardiology, Surgery, Anesthesiology, Ophthalmology, and Dermatology at the Veterinary Emergency Clinic and Referral Centre in Toronto.
In 2010, Dr. Chou moved to Ottawa and happily joined the Alta Vista Animal Hospital, the largest multi-specialty practice in Canada, where she enjoyed her duties as an emergency/critical care veterinarian and a general practitioner. During her time in Ottawa, she also volunteered her medical and surgical services to the Ottawa Humane Society.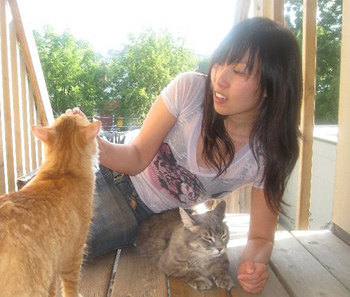 In the summer of 2011, Dr. Chou returned to Toronto to continue working part-time emergency/critical care and part-time general practice. However, as long as Dr. Chou can remember, she always had a vision of extending veterinary care to the public as a mobile service especially to cater to pets and owners alike who are unable to travel to a clinic. In September 2012, her vision became reality as Dr. Tina Chou proudly launched her new business venture called the Toronto Mobile Veterinary Services. She is very excited to have started this new and unique afterhours service offering preventive medical care and procedural services to pets across Toronto.
Dr. Chou currently shares her life with her two special cats Mooky and Roly. She is happy to be back and integrated into her Toronto lifestyle again as she enjoys her French classes, biking, skiing, Muay Thai (kick-boxing) and Salsa/Bachata dancing.